Fresh Legs Berlin
I am proud to tell you that I am selected for the group exhibition Fresh Legs at Galleri Heike Arndt in Berlin.
http://berlin.heike-arndt.dk/
Opening at 6th June 2018. 7 pm.
These animations will be shown:
Planisphere
Sweet Mysterious
Rett Ned
Meet Me There – Meet Me Then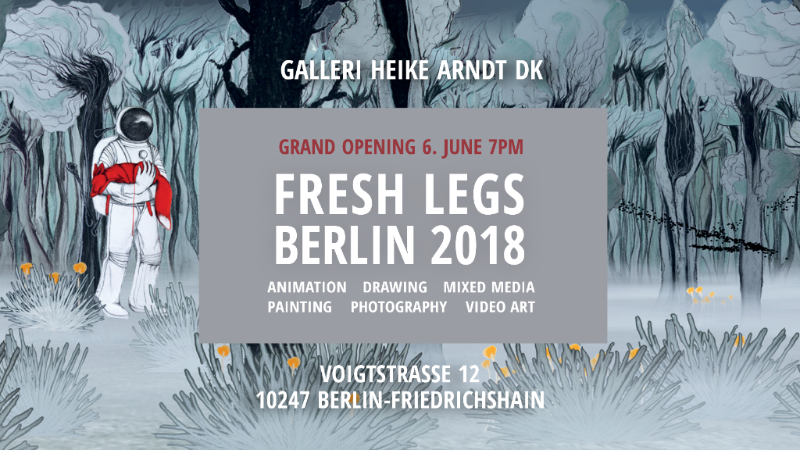 The 2018 edition of the annual Fresh Legs open call exhibition proudly presents 22 emerging international artists with their unique styles, techniques and materials. The end result is an exciting group show with figurative and abstract artworks and a large variety of techniques for the viewer to discover.
Over 100 artists from all around the world applied with more than 500 artworks. After a long and thorough screening process, 22 artists were chosen. The Fresh Legs exhibition highlights a curated selection of these artists, and we are excited to follow their journey. Experience the sharp social criticism, perfectly captured contemporary life and refined technical skills. Through the different use of materials and techniques – from drawings and colourful paintings to animated videos – they amaze and pull us in to examine them closer. The key concepts include portraying aspects of humanity as well as showing concern for the current development of our society, as interpreted by the artists' individual expressions. Here human relationships, loneliness and the fragility of the fleeting moment are explored through the artworks. Many take us on a journey, delving into the environment and the difficulties of being an individual in today's world